Clean and converting payday loan landing page design
Clean and converting payday loan landing page design
A payday loan is a short term unsecured loan.
Here the top 5 clean and converting payday loan landing pages which will help to boost your traffic, revenue, and business conversions.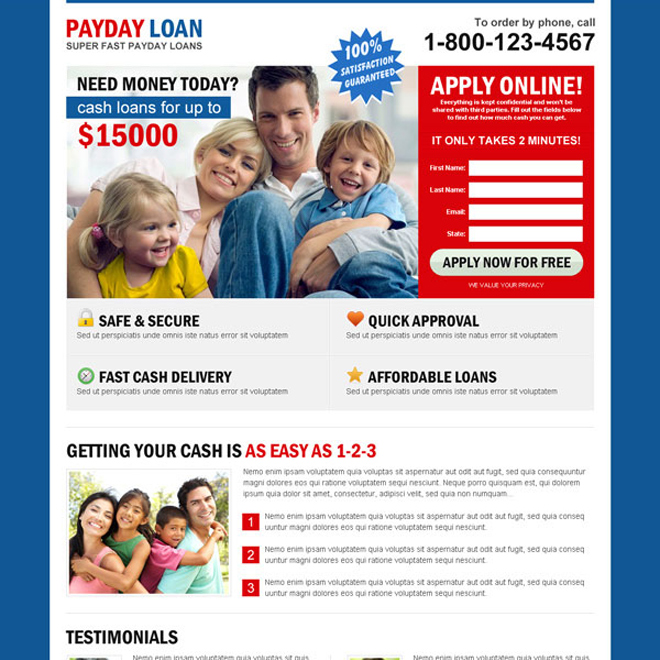 This is a top-notch payday loan landing page. This simple layout conveys a clear message to the visitor, you immediately get all the info you need with a 100% satisfaction seal and a contact number on the first half of the landing page easily without even much scrolling down. The call to action button is very clean and prominent.
Small yet effective payday loan landing page design to boost your traffic and conversion.
Clean payday loan landing page with a clear message on the top followed by 4 bullet points convey the message very easily to the visitors.
A small lead capture form to the left makes it look different than the usual landing page designs we often see around which makes it very eye-catching with a red clear call to action button.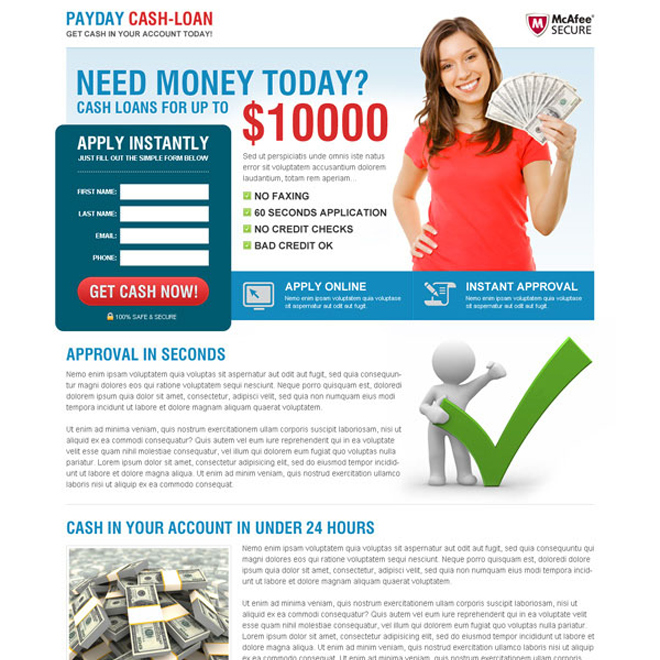 Bold and beautiful payday loan landing page with a clear message on the top and a small green color lead capture form to the right with a simple yet eye catching call to action button. The McAfee Secure and VeriSign logo on the top of the landing page adds to its credibility.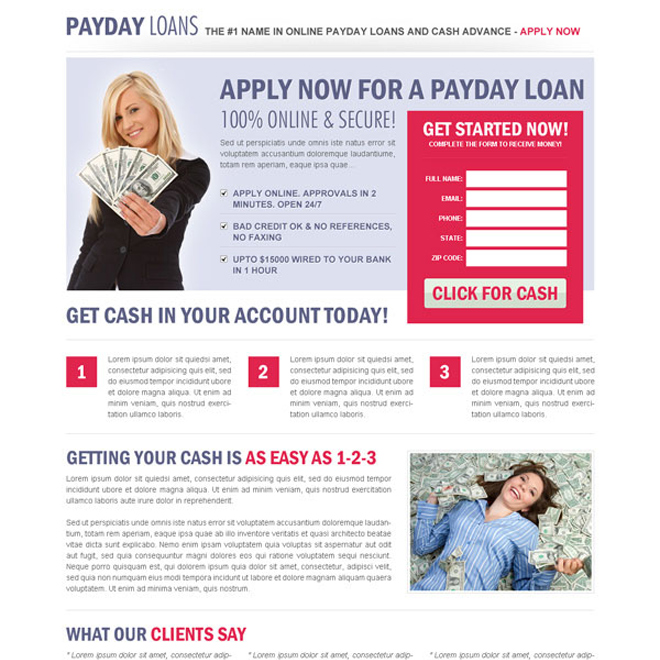 Maximum info is provided on the top banner followed by bullets. The 3 steps below to give you the entire process details in short.
Payday Loan Landing Page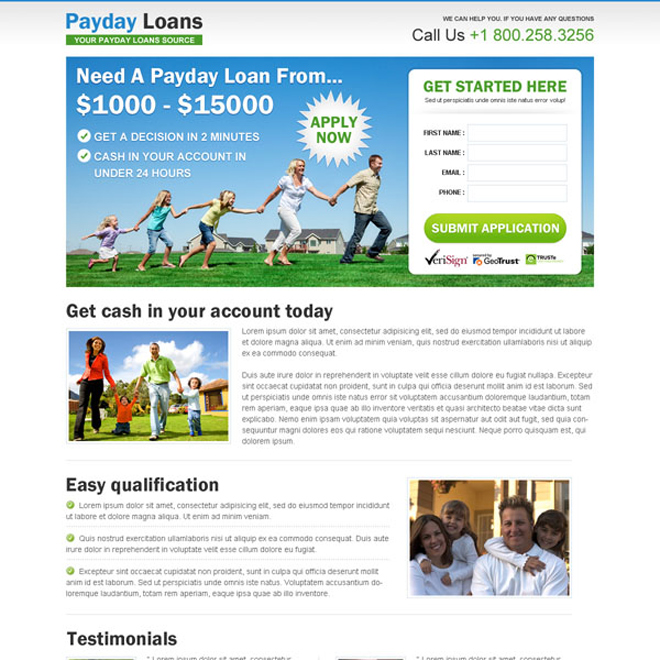 Clean payday loan landing page with a clear call to action button at the top and bottom of the page followed by information and testimonials. The top banners provide a clear message followed by bullet points and a apply now badge conveys the message very easily. The trust seal on the bottom of the lead capture form makes it trustworthy.
Payday loan marketing funnel
Promote your payday loan business online with our payday loan appealing and effective marketing funnel landing page. Our lead funnel landing pages are hand-coded in HTML/CSS so they are SEO friendly.
Professional and clean payday loan funnel page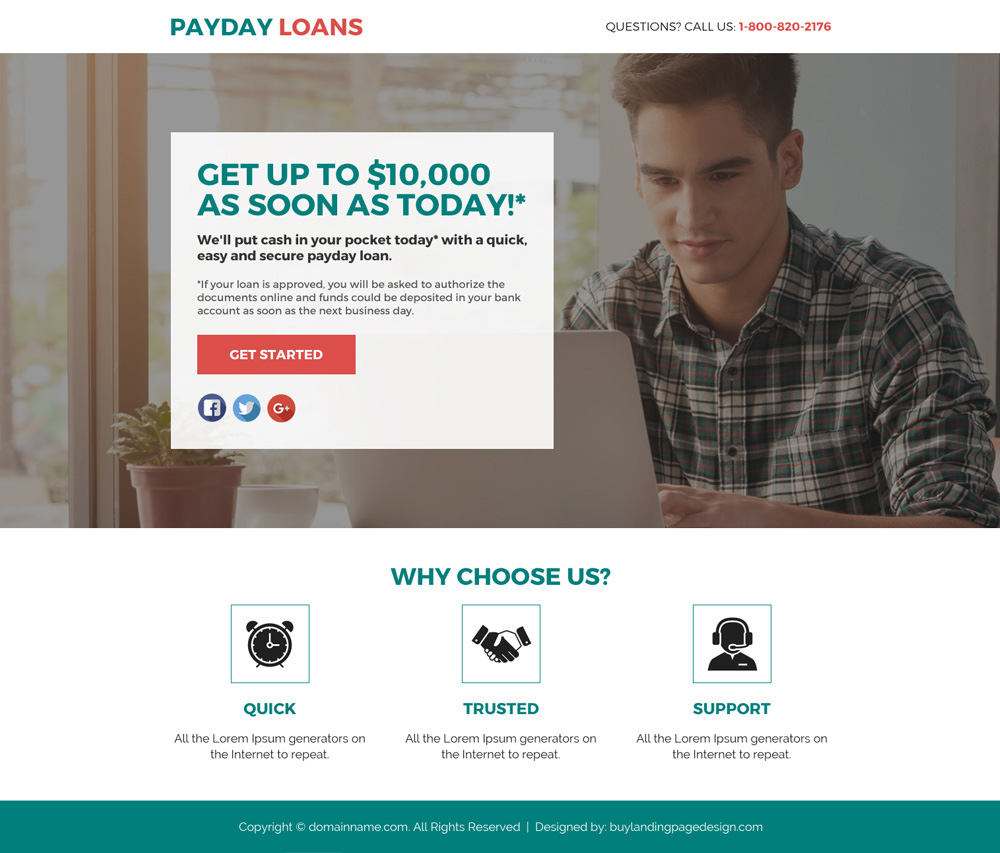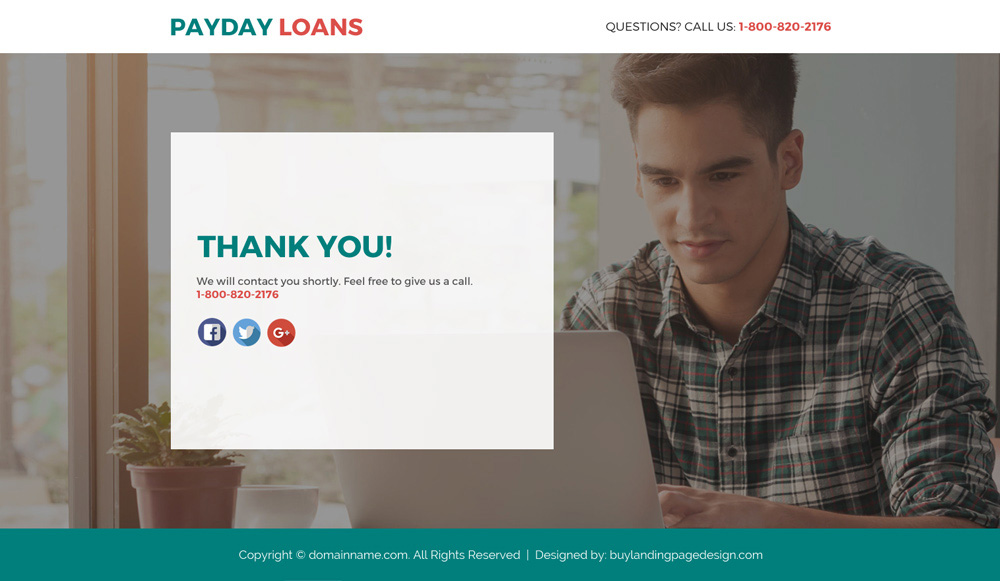 Custom Landing Page
So, you can now also order a custom landing page according to your requirements. Email us your requirements and we will get back to you with an estimated quote and time frame.