Best auto financing landing pages that converts visitors into leads
Best auto financing landing pages that converts visitors into leads
In the competitive landscape of auto financing, having a strong online presence is essential for success. One of the key tools in achieving this is a well-designed and optimized landing page. Landing pages play a crucial role in converting visitors into leads, and in the auto financing industry, where trust and transparency are paramount, a carefully crafted landing page can make all the difference.
In this blog post, we will explore the elements and strategies that can help you create auto financing landing pages that not only attract visitors but also convert them into valuable leads.
Auto title loan landing page
---
User-Friendly Design:
The first impression matters, and your landing page design is the first thing visitors notice. Ensure a clean, user-friendly layout that is easy to navigate. Use high-quality images of cars and financial elements to create an engaging visual experience. A responsive design is also crucial, as many users access websites from mobile devices.
Bad credit car loan landing page

---
Clear and Compelling Headline:
Capture your visitors' attention with a clear and compelling headline. Clearly communicate the benefits of your auto financing services. Whether it's low-interest rates, easy approval processes, or flexible payment plans, make sure your headline is attention-grabbing and addresses your potential customers' needs.
Easy auto financing lead capture landing page

---
Concise and Persuasive Copy:
Craft concise and persuasive copy that highlights the key features and benefits of your auto financing services. Use language that is easy to understand and resonates with your target audience. Focus on how your financing options can make their car ownership dreams a reality.
Minimal car finance service landing page
---
Trust-Building Elements:
Trust is a critical factor in the auto financing industry. Include trust-building elements such as customer testimonials, industry certifications, and security badges. Clearly communicate your commitment to customer privacy and data security. The more secure and trustworthy your landing page appears, the more likely visitors are to provide their information.
Auto finance funnel
---
Visible and Compelling Call-to-Action (CTA):
Your CTA is the gateway to converting visitors into leads. Make it visually striking, use contrasting colors, and place it prominently on the page. Clearly state the action you want visitors to take, whether it's filling out a form, getting a quote, or contacting your sales team.
Auto financing call to action landing page
---
Interactive Forms:
Design user-friendly and interactive forms that collect the necessary information without overwhelming the visitor. Keep the form fields minimal and request only essential details.
Car title loan landing page
---
Responsive Live Chat Support:
Implement a responsive live chat feature to provide immediate assistance and address any queries visitors may have. Real-time engagement can significantly increase the chances of converting a visitor into a lead. Ensure your team is well-trained to handle inquiries effectively.
Easy auto financing landing page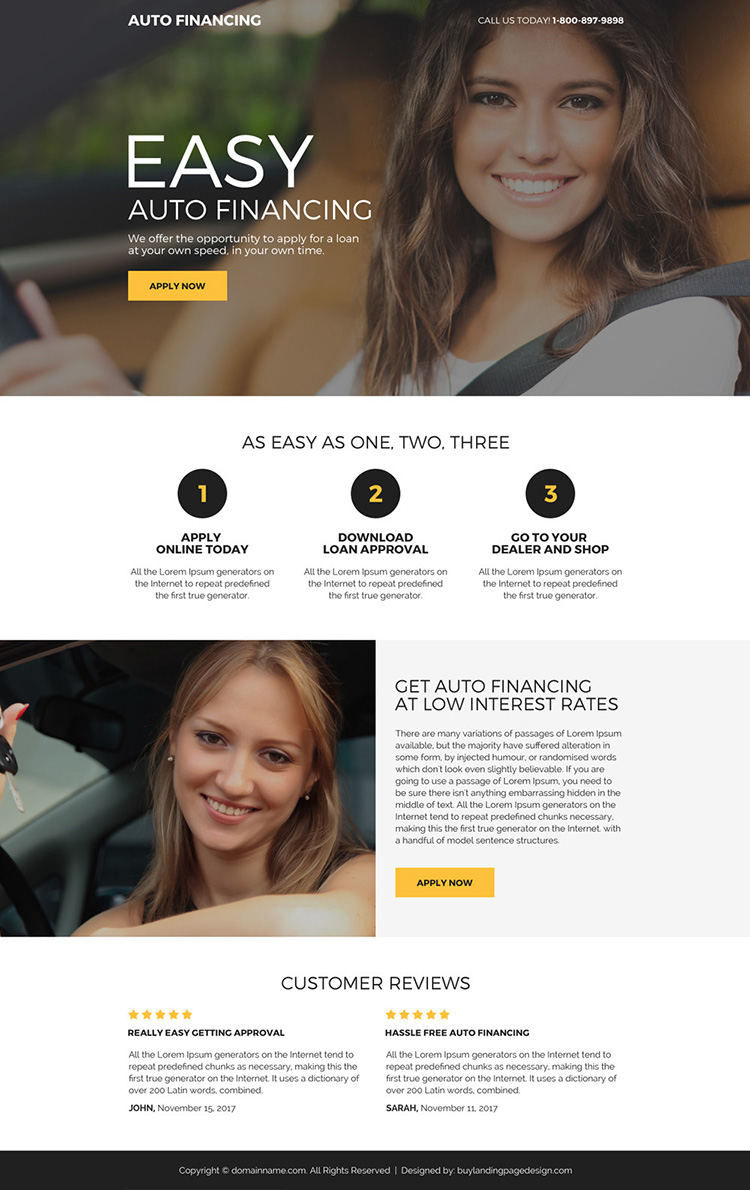 ---
A/B Testing and Optimization:
Continuously test different elements of your landing page, including headlines, copy, images, and CTAs, to identify what resonates best with your audience. A/B testing allows you to optimize your landing page for maximum conversion rates over time.
Easy auto financing call to action landing page
---
Auto financing services landing page

---
Special auto financing service landing page

---
Affordable car loan landing page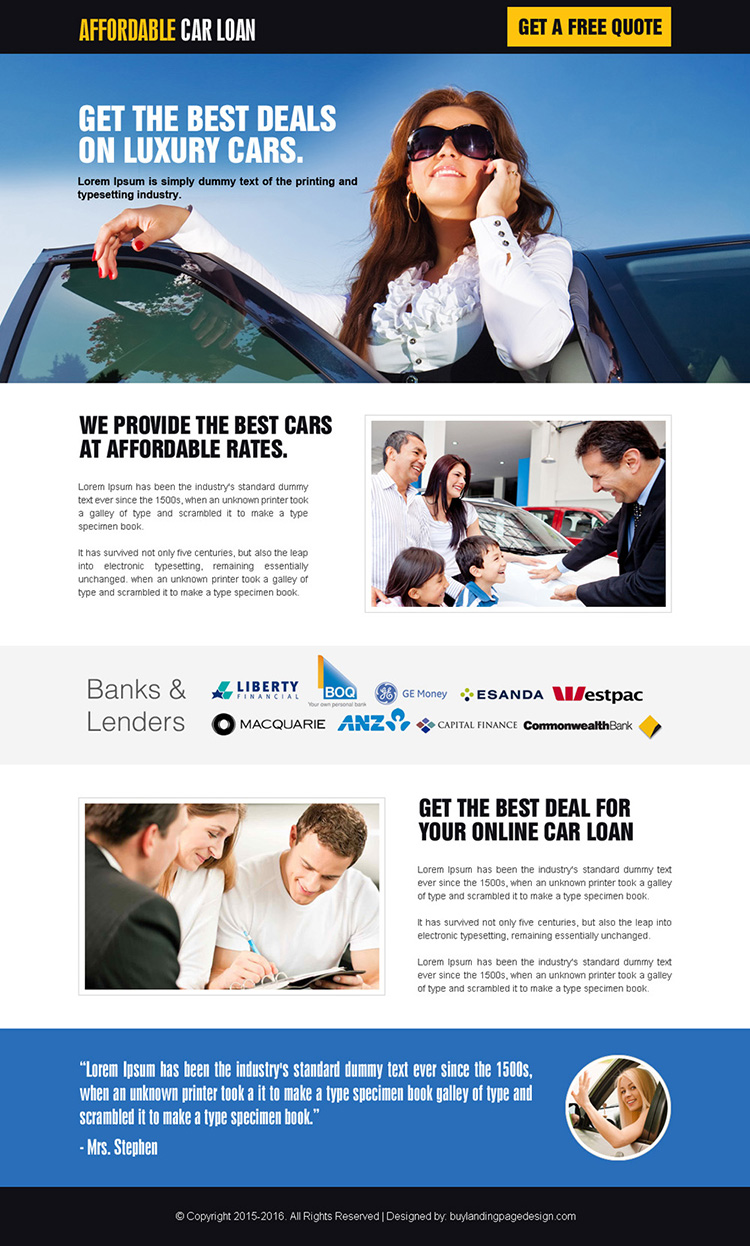 ---
Hassle free auto finance landing page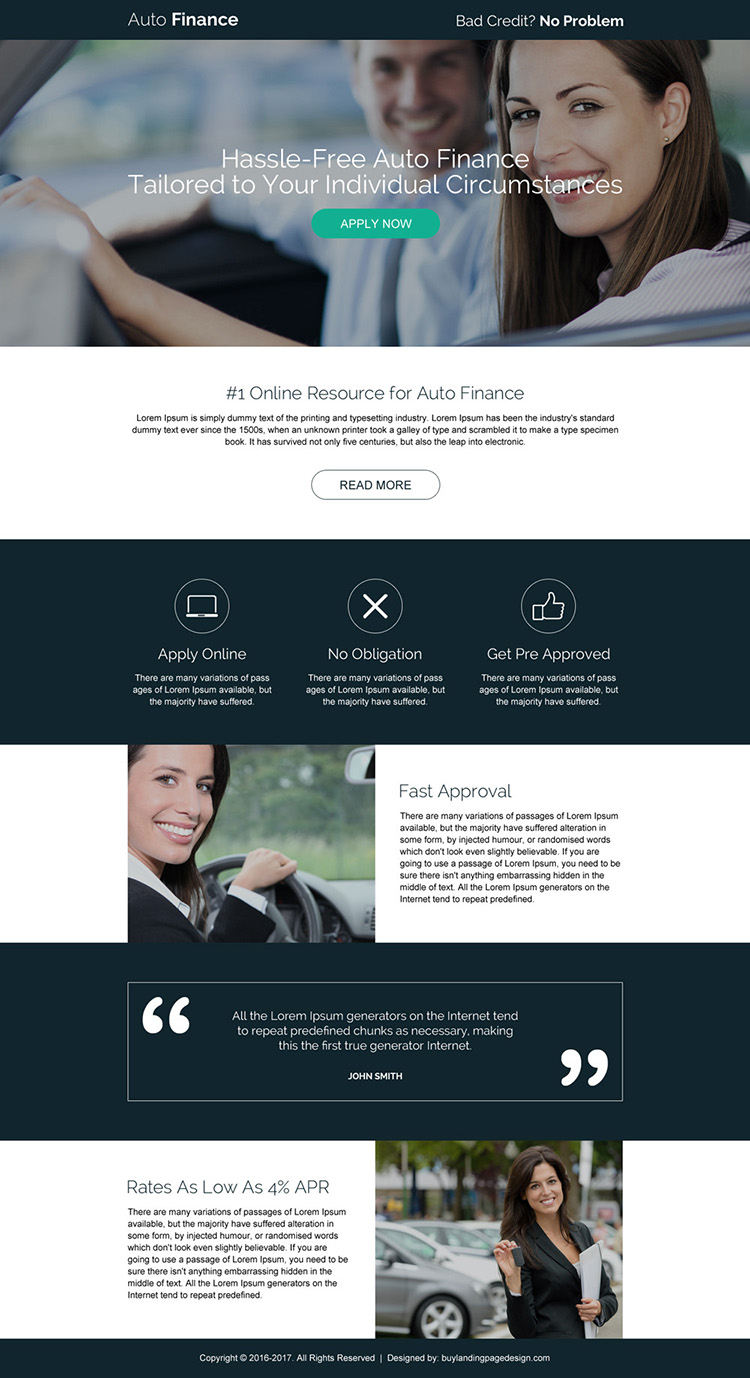 ---
Car loan USA landing page
---
In the world of auto financing, a high-converting landing page is a powerful asset that can drive your business forward. By focusing on user-friendly design, compelling content, trust-building elements, and effective calls-to-action, you can create a landing page that not only attracts visitors but converts them into valuable leads. Regularly analyze and optimize your landing page to stay ahead in this competitive industry and provide an exceptional online experience for your potential customers.